Vanessa Bell Armstrong

Judy Jacobs and Kaylee + Erica

2017 Talent Show

Tasha Cobbs Lead The Way During Women's Conference 2015


Whatever you do, Do Not Quit Looking For A Fresh Start. God's mercies are new every morning and He can just speak one word and reboot your life!

Senior Luncheon 2017

Singles in Asheville

Singles' Summer Cruise

The Stellar Award winning The Walls Group accepted our invitation to be the featured artists for Youth Prom 2015 on May 2nd.
Anniversary Conference Lineup

2014
Building Healthy Relationships With Friends of Tabernacle
We haven't seen our best days. Jump in with us and enjoy the ride to your place of destiny.

Our 2014 Auto Show Best In Class Winners

2014 Youth Prom & Concert

Da' T.R.U.T.H. & Jor'Dan Armstrong




2014 Husband & Wife Retreat

Darwin Hobbs

Kingdom Olympics

Get those sneakers, shorts, and anything else it takes out and get started before it's too late. Kingdom Olympics is a day when we all get out there and push the limits.

A Glimpse Inside of Our Senior Luncheon

Gifts, Prizes, Entertainment, Praise




Luther Barnes & The Sunset Jubilaires

A.C. Green
---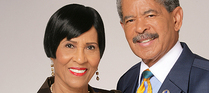 | | |
| --- | --- |
| Pillars of Faith Dr. Frederick and Betty Price and Dr. Bill Winston shared their experienced years of standing strong in faithful obedience to God's principles and standards. | Drs. Frederick & Betty Price |
| | | | |
| --- | --- | --- | --- |
| Bishop Marvin Winans | He is Bishop-Elect of Perfecting Fellowship International and oversees a sisterhood of churches in the United States and abroad. The Ministry of Marvin L. Winans is reaching the world and touching the nation through dynamic truth. | Jesse Duplantis is founder of JDM and has been ministering since 1978, the same year that Faith Tabernacle Christian Center was founded. He uses humor and his knowledge of the Word to speak to people all over the world. | Dr. Jesse Duplantis |
Bishop Rudolph McKissick, Jr.

Bishop Rudolph McKissick, Jr. is the successor to his father and is Senior Pastor of the Bethel Baptist Institutional Church, located in Jacksonville, FL. He has authored the books: "Nuggets by Day and Gems by Night" and "God's Got My Back: Insights I learned From Spinal Surgery".


Anniversary Conference 2012. We will live as a blessed people giving praise and honor to whom honor is due.
Dr. Bill Winston, Dr. Jamal Bryant, Drs. Frederick and Betty Price, Pastor Smokie Norful, Pastor Robert Roundtree, and Apostle Michael and Dr. Louise Goings all revisited us. Our anticipation was met.


Dr. Bill Winston
Tye Tribbett








We enjoyed the best that Tye Tribbett has to offer. Every good and perfect gift comes from the Lord. And if you were here last time, then you know that
He Did It Again; just like our God will!!!!

---

Dr. Myles Monroe












With a strong focus on Maximizing Your Potential Dr. Myles Monroe spent two days with us and challenged us to live to the point of being empty.


---

Judy Jacobs











A native of North Carolina, Minister and Praise & Worship Leader, Judy Jacobs has shared worship with us on several occasions. She has a Word to deliver and she's energetic in praise!


---

Pastor Donnie McClurklin

Deeply rooted and grounded in the gospel, Pastor Donnie McClurklin blessed this house.

---
Pastor Paula White

Dr. Wanda Turner

Anniversary Conferences

Pastor Paula White, Dr. Wanda Turner, Tye Tribbett, Karen Clark-Sheard, Pastor Darlene Bishop, and Bishop George Bloomer are among those who have been in the house and very instrumental in leading us to growing in the Word of God during certain seasons of our life as a church. It is great to celebrate, but more important that we grow in knowledge and revelation concerning our relationship with the Lord.

Beverly Crawford

Dr. Marvin Sapp


Dr. Marvin Sapp has become one of our closest friends of the church. He is well-loved and supported.

---

Karen Clark-Sheard

Dr. Juanita Bynum














Thanks to the prophet, Dr. Juanita Bynum. Dr. Bynum allowed the Lord to use her mightily during two nights at Faith Tabernacle. We don't want church as usual. Having the Holy Spirit will evidence in our lives through having power over our situations.


---
---
Dr. Dorinda Clark-Cole


Thank you, Dr. Dorinda Clark-Cole. The Lord used this woman of God to challenge us to hold onto our salvation for the sake of our loved ones and our promised future. Other Harvest Day Guests include Alvin Slaughter, Alvin Darling and Celebration, Vicki Winans, Byron Cage, Tramaine Hawkins, and the legendary, Dorothy Norwood.


---

Israel & New Breed


Live and In Concert. Israel & New Breed brought the liberating Love Revelation Tour to Faith Tabernacle. This free concert event magnified praise and worship. Israel is a friend of God, and we are glad to know him as our friend as well. Thank you to all who participated in this corporate praise event.

---

Alvin Slaughter

Vicki Winans

Martha Munizzi

Martha Munizzi led us into a magnificent time of praise during a free concert at Faith Tabernacle. She is a great psalmist and extremely talented woman of God.

---

Melvin Williams

Alvin Darling

Another traditional gospel musical legend, Alvin Darling has made Sunday Morning worship reach back to days gone by.

---

Tramaine Hawkins

Traditional in style, known for her grace, Tramaine Hawkins lifted her voice in the house at Faith Tab.

---

CeCe Winans

Known worldwide, CeCe Winans has a special gift of song and has shared not only this gift with us, but her understanding of the scriptures as well.

---

Dorothy Norwood

Dorothy Norwood is a legend in the gospel music industry and she is a longtime friend of Faith Tabernacle. We're always glad to see her come.

---

Byron Cage

Byron Cage has been a Harvest Day Celebration guest and has conducted a workshop with our choir. We've been taught by one of the gospel music industry's lead artists.

---

Kim Burrell

With Phenomenal vocals and a dynamic presence, Kim Burrell's God-given talent has been featured on the Faith Tab platform.

---
---
Pastor Shirley Caesar

Now known to us as Momma Shirley, Pastor Shirley Caesar has

Pastor Taffi Dollar

Dr. Iona Locke

Our Annual Youth Prom

Known in the area as one of the best Youth Proms. We set the standard high for our youth and the expectation to live a clean and free lifestyle even higher. We make this annual event one that exceeds any school prom around. Past guests include, Canton Jones, Mali Music, J. Moss, Deitrick Hadden, Damita Hadden, KeKe Sheard, Charles & Taylor, and others in various years.

J Moss

Frequent Youth Prom guest ministry, J Moss, has put the charge out there for all of our youth to give what they have to the Lord.

---

The Women's Conference

Each May, we focus on maturing by bringing in women of the gospel to take women of the gospel to higher and higher places in God. We've had some of the greatest female teachers in the land over the years: Pastor Taffi Dollar, Pastor Sheryl Brady, CeCe Winans, Kim Burrell, Bishop Iona Locke, Pastor Shirley Caesar, Dr. Cindy Trimm along with our own Pastor Denise Goings.

Dr. Patricia Bailey-Jones

Doing a magnificent work in areas like Haiti and Africa, Dr. Patricia Bailey-Jones is a dear friend of Faith Tabernacle. She has deposited into the lives of our sisters during past Sisters of Faith Fellowship Beach Weekends.

---

Dr. Cindy Trimm

We've been enriched by three powerful women with powerful messages.
It was our pleasure to host Our 2013 Women's Conference with Dr. Cindy Trimm, Bishop Iona Locke, and Pastor Denise Goings.
We're convinced that our time for growing in God will not be prolonged. We will not be discouraged by those who do not understand us and we will be strengthened in the Power of His Presence.


---

Senior Luncheon Guests

Luther Barnes and The Southern Jubilaires have been repeat guests for our annual Senior Luncheon. The Senior Luncheon is a tremendous blessing for thousands of seniors above the age of 55. We've had Keith Wonderboy Johnson, Luther Barnes and the Southern Jubilaires, Rev. F. C. Barnes, Melvin Williams, Harvey Watkins and the Canton Spirituals on separate occasions.


---

Minister Carol Jones










Our Pastor Earl Goings has been teaching about the power of prayer on Monday Nights at 7:00 PM. He has planted the seeds and Min. Carol Jones watered those seeds during a dynamic Prayer Conference like no other. As a World Changer, she encouraged us to speak the Words of the Lord from His Word and do the number one thing...pray.

Thank you Minister Carol Jones.
Min. Jones leads the Intercessory Prayer ministry at World Changers International under Pastor Creflo & Taffi Dollar.


You Can Unlock the Power of Prayer with us on Monday Nights at 7:00 PM. It all starts with prayer...The prayer of faith.

---

Lee Williams & The Spiritual QC's










The Senior Luncheon is a tremendous blessing for thousands of seniors above the age of 55. Lee Williams and the Spiritual QC's made the day special. We had a capacity crowd and many walked away with prizes in the form of furnishings, minor and major appliances, and more. This pre-holiday luncheon reaches many and is remembered for days to come.


---

Keith Wonderboy Johnson
NOW THAT YOU KNOW WHAT YOU MISSED, HERE'S WHAT'S HAPPENING NEXT...visit our Events